Imagine if the Second World War had never ended, but instead, it persisted long into the 1950s, bringing with it a wealth of new weapons innovation and technological advancements. That's what fans can likely expect in Call of Duty WWII: Vanguard, which is the alleged title for 2021's Call of Duty release, currently under development by Sledgehammer Games.
Call of Duty is set to re-write history, creating a timeline where World War II didn't end, but we're totally in the dark as to what happens after 1945 as we already know it. It's an open book at the moment, and Sledgehammer Games can essentially do whatever they like with the environment, given that it's entirely fictional territory.
This world-shattering news was dropped by ModernWarzone, a reputable source for all things Call of Duty, drawing some interesting responses from industry professionals:
It took mere minutes for the leak to spread like wildfire, with all manner of content creators flooding to the internet in droves to disseminate the information. Of course, there are two sides to every story, and the camps are already dividing either in favor or in dispute of another World War II title.
However, it's a bizarre line of thinking, as the last World War II title was Call of Duty WWII, which launched in late-2017. Before that, there hadn't been a World War II Call of Duty title since Call of Duty: World at War launched in 2008.
Call of Duty WWII: Vanguard – Back To The Roots
We must remember that Call of Duty is a World War II title at its deepest foundation, and its success today is based entirely on the relative success of those earlier launches. There are many gamers out there, both casual and professional, who believe that 2017's Call of Duty WWII was the most balanced title for Call of Duty esports.
ModernWarzone also released a video expanding on this leak: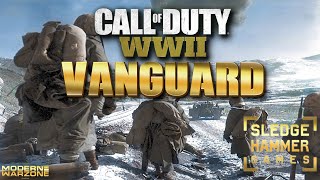 Although, with this not being a typical World War II experience, it's likely that Call of Duty WWII: Vanguard would offer a more diverse and unpredictable landscape than Call of Duty WWII did. It's likely to once again shake up the competitive scene, and that includes Call of Duty League betting, of course.
There has been talk of keeping the Call of Duty League on a single platform (such as Black Ops Cold War) for longer than a single year, but the tradition is to follow the latest release. Therefore, it stands to reason that Call of Duty WWII: Vanguard will be the platform of choice for the CDL 2022 season.
It'll be interesting to see where this goes, as more news will undoubtedly spill out of the camp in the coming months.