Group Stage of the League of Legends 2015 World Championship has just come to a completion, and it's time check out how the tournament has progressed so far.
There wasn't a day that went by without an upset or excitingly close game. Here's a recap of some of the biggest storylines heading towards the Knockout Stage.
The North American collapse
There wasn't a lot of hype going into Worlds surrounding the three North American teams that qualified.
Counter Logic Gaming came in as the most likely of teams to make it out of Group Stage thanks to their strong showing in the NA LCS Finals and the relatively weak group they were drawn into. TSM looked like a shell of the team it was at the start of the season and increasingly more like the team that collapsed at MSI 2015.
Let's first start with Cloud9 though, the de facto North American Cinderella team and the team with the strongest odds against them.
Cloud9 finished in 7th place after the Summer Split, requiring them to fight through a series of tiebreaker games just to remain in the LCS and qualify for the NA LCS Gauntlet. After losing the first two games of their first series to Gravity (and the infamous Hai on Amumu spectacle), Cloud9 went on to complete the reverse sweep, winning the next three games in succession.
They followed that up with another miraculous reverse sweep of Team Impulse and finished with a 3-1 series victory over Team Liquid.
That all happened in the month before Worlds, and for most teams, they would be satisfied just getting there. C9 wasn't content though, and they attacked the Korean boot camp (as it's being called) vigorously.
Balls alone played over 300 games in a month time period, not including team scrims. In that very first week of Group Stage, it looked like it had paid off. It started out with the Veigar pick mid by Incarnati0n to upset ahq, and finished with a Balls pentakill (a Darius pentadunk) on fnatic to cap a 3-0 week one run.
All C9 had to essentially do was win a single game in week two of Group Stage. Just one game.
They couldn't do it though. Team's adapted to Hai's week one shot calling and Incarnati0n couldn't pull out another magical game. It would all be for nothing.
On the bright side, not many expected C9 to have a shot coming out of this group stage. In every single game they had at least -1.5 odds to win or worse across eSports betting sites.
They still over achieved and won three games. CLG on the other hand. No excuses. Much like C9, CLG found themselves on top of their group and looking good after week one of group stage with a 2-1 record.
And just like C9, they lost all three games in week two. This 38 second clip will haunt CLG throughout the off-season: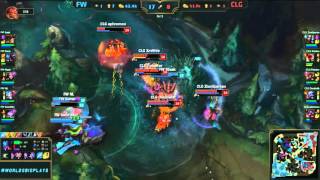 CLG needs to look back on this, realize it's part of the building process, and figure out what separates them from competing on an elite level more consistently.
We haven't forgotten about TSM (but maybe we should have). Joining the North American's 0-3 party for week two, TSM finished Worlds an abysmal 1-5. Poor shot calling and team coordination continues to plague TSM, especially in the mid-to-late game.
It's a tough way for Dyrus to go out (as his retirement announcement seems to have merit), and leaves a giant hole in top lane for TSM once again. The ghost of Santorin needs to be addressed in the off-season as well.
Underdog Origen makes it out of Group Stage
Somewhat masking TSM's failure in this group is the disappointment of LGD. Many eSports bookies had LGD with the third best odds to win the entire tournament.
You could just see everything start to unravel with that first loss in week one. A 0-3 start basically put them out of the tournament before the second week even started. They did fight back admirably after replacing Acorn with Flame in week two, but it was all for not. Their unquestionable talent was undone by poor coaching and terrible drafts.
But enough about LGD, let's celebrate the new tournament Cinderella, Origen.
A surprise advancement for many, one word can be used to describe the way Origen plays: smart. They may not be the best group of individually talented players, or have amazing shot calling, or always have superb team coordination.
But what they do have is an endless fight and an ability to find the smart plays when they become available. They found themselves down in quite a few games, but they never gave up and fought back to steal a few away.
Former Fnatic mid laner xPeke, team captain for Origen, has to be feeling like he's on cloud nine right now (pun intended). Their first Worlds as a team can already be deemed a success and their 'nothing to lose' attitude make them a dark horse to upset Flash Wolves in the knockout stage (odds are actually currently favoring Origen by 2-1 over Flash Wolves – odds of 1.465 and 2.81, respectively).
That other European team
After a tough start to Worlds and a dismal 1-2 record after week one, Fnatic looked more like Frantic.
And frantic they were, going 3-0 in week two to claim the number one spot in Group B and avoid a knockout matchup against SKT (more on that unfortunate team to come).
No doubt about it, Fnatic deserves to be here and the odds makers are listening. Fnatic currently has the 4th best odds to win it all (14.00). It was a rough start to Worlds, but Fnatic is still the best Western team.
Ahq's Clinching Gift
Want to know what Riot got ahq for making it out of Group Stage? A first round matchup against tournament favorite and so far perfect SKT (the only team currently in the tournament without a single loss).
The good news? SKT was so dominant in Group Stage, that they were able to subout the best player in the world, Faker, for multiple games and still not miss a beat.
If you have this itching feeling that ahq is going to go on an unimaginable run, they currently have the worst odds to win it all at 101.00. And as they say, you have to beat the best to be the best. Right? Positive thinking, ahq.
Positive thinking.
League of Legends Amateur Pro League
Someone forgot to tell the Chinese Pro League that Worlds started two weeks ago.
This wasn't just scrims against North American teams. Looks like there's no 'Korean Imports' in T-E-A-M (alright we'll stop with the corny jokes now). But seriously, what happened here?
We already covered what happened to LGD (and IG is scurrying around somewhere back there as well). Even Edward Gaming, who is advancing to the Knockout Stage, look severely outclassed in two games against SKT. With all of the influx of Korean talent into this league, one would expect better results.
Whatever the issue is (and there's blame to go around for the coaches pick/bans to players underperforming) it better get fixed this offseason or the Pro League is going to have to rethink their strategy.