Last night, a revealing trailer was dropped for the new Warzone map, Caldera. It permitted us a deep, inside look at the environment, with the trailer taking the form of a tourism infomercial. In the hours that followed, more details were released, with content creators pulling every shred of information from the announcement that they possibly could.
Finally, after many months of waiting, Warzone is about to turn a corner. There are numerous changes coming that will impact the platform and the community. With the new Warzone map also comes a fresh anti-cheat platform, which is sure to entice many players back into Warzone.
So, what can we expect from Caldera, the first new Warzone map in two years? Let's find out.
Enter Caldera, The New Environment
Throughout the last two years, all of the trailers for Warzone have been hard-hitting, high-octane displays. For the first season on Caldera, Raven Software has decided to take a different approach, putting out a relaxed, tourism-themed teaser: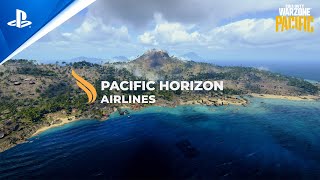 As you can see, Caldera is dramatically different to Verdansk. We're moving away from a mostly urban environment to one that is altogether quite rural. It seems that foliage will be king in Caldera, and the map as a whole is relatively diverse. Like Verdansk, the island appears to have no internal water bodies, meaning land-based combat will still be the mode of choice.
However, we'll certainly be seeing aircraft-based combat, although it never is a prominent feature in Warzone. Right now, the new Warzone map is split up into fifteen major regions, just as Verdansk was.
From white, sandy beaches to crumbling ruins, and from a bombed-out airfield to a tightly-packed city, there's plenty to see and do in Caldera.
Introducing The Changes
Of course, it doesn't end with just a new Warzone map. There are plenty more changes coming, including the anti-cheat platform that we reported on very recently. This will breathe fresh life into Warzone and hopefully rid the platform of the dense concentration of cheaters.
Raven Software, the chief developer behind Warzone, also announced a string of gameplay and stability changes coming. Brace yourself – here's the list:
Snapshot, stim, decoy, and 'most lethals' will receive a considerable buff.
Loadouts are now restricted and can only be purchased after the first loadout drops.
Stuns, heartbeat sensors, and melee weapons are all nerfed.
Stopping Power is officially disabled as a field upgrade.
When you win the Gulag, you respawn with your in-Gulag weaponry.
Dead Silence field upgrade is being nerfed.
Gas masks will no longer interrupt player actions.
That's the basic summary, but there is a lot more coming along with the new Warzone map. Ultimately, this WWII-themed adventure promises to entertain fans non-stop when it drops. It has already created a buzz of excitement throughout the Call of Duty community. After all, fans have been waiting for a new Warzone map for almost two years.
It'll tide them over until Vanguard's Call of Duty League tournament launches in 2022, anyway.
Caldera will launch on December 8th, if you own Vanguard, and globally on the 9th of December.
Best of luck out there, soldier.