It was only a matter of time before esports became more organised on the Call of Duty Warzone platform. And now, that time has come, as Activision has announced the World Series of Warzone. This event marks a milestone in the history of Warzone, and it'll be the largest prize pool ever seen for the popular battle-royale title.
While there are plenty of ad-hoc and sponsored tournaments in and around Warzone, there hasn't ever been something like this. In the World Series of Warzone, the most incredible in-game talent will compete across a series of events. There's an enormous prize pot up for grabs, totaling $1.2 million, and it'll be split across four separate events.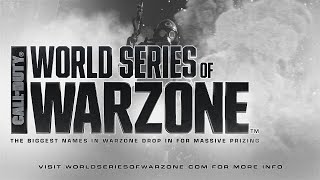 World Series of Warzone: The Breakdown
On the 23rd of June, the first event will open in North America, and it'll be a trios tournament. However, before that point, the World Series of Warzone is open to a qualification stage. This is a semi-invitational event, so there is an opportunity for anybody in these regions to compete alongside top industry talent.
There are just three requirements for those looking to qualify for the first stage:
Be aged eighteen or older.
Located in North America.
Be able to stream your gameplay.
It's a dramatic first-come-first-served basis that'll lead into a relatively complex style of gameplay. Activision has developed a draft-based format that will see squads earn points for kills and placements. There are team captains pre-picked by Activision (made up of the world's finest players) that will have the ability to draft players of their choice.
There's a serious necessity to read the full format on Activision's website. That's especially true if you want to dabble in a little Call of Duty betting and want to fully understand the rules. As Activision has said:
This format is built for high-intensity, high-elimination victories, and with $300,000 on the line for the first event, every shot will count.
Warzone Witnesses an Esports Expansion
As the World Series of Warzone kicks off in June, there are just six months for the full schedule to roll out. It's going to be a packed year for esports on Warzone, and it's going to accelerate the platform massively ahead of the launch of the next Call of Duty title.
Thankfully, and fortunately for all participants, the tournaments themselves will be held in custom, private, invite-only lobbies. This will massively reduce or entirely eliminate the potential for hackers and cheaters to spoil the game.
If there's one thing that has plagued Warzone in recent months, it has been the onslaught of in-game hackers. They've been shredding tournaments and professional players with ease, completely disrupting the landscape.
Now, they'll be effectively locked out, and the competition will be as balanced as it could possibly be.
As of yet, the exact rules are unconfirmed, and we're not sure if there will be restrictions on weapons, skins, or equipment.
The action commences on the 22nd of June with the Captains' draft event, so be sure to follow us for all of your Call of Duty betting tips & much more.