Call of Duty: Black Ops Cold War's League Play (wow, that's a mouthful) is now well underway, and competitors have massively enjoyed getting to grips with the exhilarating ranked mode. It makes for a refreshing change from standard online multiplayer, particularly as the last iteration of Call of Duty, which was 2019's Modern Warfare, lacked a real competitive game mode. With League Play, competitors of all skill levels and proficiencies can go head to head to climb the League ladder and score some points against their fellow players.
The League Play mode mirrors the Call of Duty League, which kicked off at the start of this month, featuring twelve teams all vying for the chance to be crowned the champions of the world.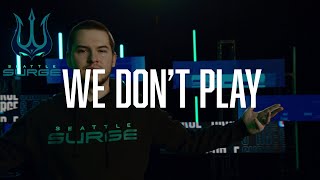 I've personally been enjoying League Play since it dropped earlier this month, and can attest to its entertainment value; it's so satisfying to finally have a game mode in which the players really push for the objectives. Call of Duty League Play is broken down into three game types: Hardpoint, Control, and Search and Destroy. There are only a few maps in rotation: Miami, Checkmate, Crossroads, Moscow, and Garrison, and there are restrictions levied against the types of weapons and attachments players can carry into battle with them.

To that end, I'm here today to advise you of the best weapons to use in Call of Duty League Play, from the close-range SMGs to the mid-to-long-range ARs. These loadouts are tried and tested, supported by the professional competitors of the Call of Duty esports world, and they certainly won't let you down. If you need an edge in League Play, look no further than these four formidable weapons.
The All-Rounder: AK74u
The AK74u is a beast of a weapon that simply must be carried into the fray by at least one team member. It's the favourite of many players in the Call of Duty League, revered for its stability, accuracy, and overall stopping power. There are many who would call the AK74u the best-in-class when it comes to SMGs, but I'm not one of them – you'll find out why a little further on in the article.
This world-class loadout ensures you're hitting the target every time, and although it doesn't do too much damage at long range, its stability ensures you're at least getting rounds on target:
Muzzle Brake 5.45
9.3″ Extended Barrel
KGB Skeletal Stock
GRU Elastic Wrap
Spetsnaz Grip
It's a rapid-ADS weapon, and the extended barrel/muzzle brake combination means that the recoil is kept low and manageable throughout. We're not using an extended clip on this one, because honestly, you don't need it. This AK74u build can drop opponents in as little as four to six rounds, meaning you'll be slaying with ease, even with a 30-round stock clip.
The GOAT SMG: MP5
There are a few extremely good reasons why I, the team slayer, main the MP5 in almost every game we play. Let's start with the obvious fact that the MP5 has been a series favourite SMG for many, many years. It's a Call of Duty staple, and it hasn't ever let me down. In Black Ops Cold War, the MP5 is an older model, but it still shreds – more so, in fact, as its rate of fire surpasses that of the Modern Warfare MP5.
This MP5 build boasts an insanely fast TTK, stability at close-to-mid range, and an ADS time that is blisteringly fast. If you're in a fight against someone with almost any other weapon up close, the MP5 will dominate them every single time, no question:
Infantry Compensator
9.5″ Extended Barrel
Field Agent Grip
Airborne Elastic Wrap
Raider Stock
I'll admit that there is one drawback to not using an extended mag on this loadout, and that's the fact that I'm constantly reloading. It's highly unlikely you'll land more than three kills with this MP5 before needing to reload. Thankfully, the stock reload time of the MP5 isn't all that obstructive, and you can slay with ease regardless of not having an extended or fast-reload magazine.
The Big Surprise: Milano
Sometimes, you'll start playing a game and you'll use a particular weapon, and you'll do insanely well with it, but people look at you and ask, "Why?"
The Milano is the embodiment of that particular phenomenon. I've always loved the Milano, ever since I first started using it in Black Ops Cold War's standard multiplayer rotation. It's a very capable Uzi-esque SMG that hits hard, but has a much slower rate of fire than most other SMGs, meaning you don't burn through ammunition quite as fast:
(Note: You need to use the Gunfighter wildcard here)
45 Rnd Drum
Airborne Elastic Wrap
SAS Combat Stock
Milstop Reflex (sight is up to preference)
Infantry Compensator
9.5″ Rifled Barrel
Now, that's only six of the eight potential attachments that you can use under the Gunfighter wildcard, but I find that I simply don't need anything else. This particular Milano build has seen me through many a tough fight, from the close-to-mid range action of Raid to the wider sightlines of Miami. Although, you do need to land those first few shots, otherwise the low rate of fire will be bettered by a competitor wielding an AK74u, MP5, or – dare I say it – a MAC10.
The Long-Ranger: XM4
If I ever find that, as a team, we're struggling to get too close to the objective, or we're being engaged at range every single time, I'll switch out to the extremely capable XM4. It's the favoured AR of the Call of Duty League, and you'll see it being used in almost every single League Play match you compete in. There are few ARs that perform quite as well as the XM4 at all ranges, and it's a versatile and modular weapon; whether you want it short and fast, or long and stable, you can build it as such:
(Note: You need to use the Gunfighter wildcard here)
Microflex LED (sight is up to preference)
Infantry Compensator
40 Rnd Magazine
Airborne Elastic Wrap
Field Agent Grip
13.7″ Ranger Barrel
Raider Pad Stock
This build strikes a neat little balance between fast ADS and unwavering long-range stability. The 40-round magazine is more than enough to deal with almost every fight, and if you're slaying on a map like Raid or Moscow, there are plenty of lines you can set up on to have long-range dominance.
However, bear in mind that this build does have the slowest reload time out of any weapon I've recommended here, and the movement-while-aiming speed is also remarkably slow. This isn't your run-and-gun build, folks.