No, with an average of over 200 million active monthly players, Fortnite is not dying. Official figures for 2023 aren't available so here we'll present the empirical evidence surrounding this question.
There were approximately 400 million registered users on Fortnite in 2021 making it one of the most popular games in history. Fortnite is widely regarded as the best battle royale in the business, it took mere months for the game to take the industry by storm. Clearly, Fortnite revolutionized the battle royale concept, becoming the defining title for the genre. Today, we're looking at the game's environment and Fortnite's player count. Let's take a closer look at Fortnite as it exists today.
It's time to answer that all-important question of whether or not Fortnite is dead.
Fortnite's Kinda Dying: The Early Years
It doesn't come as any surprise to learn that all video games run their natural course. There's a 'lifecycle' aspect to gaming. Once a game is released, it'll undergo a wave of popularity, but eventually, that hype will subside.
If there's enough of a drive to maintain that game, the situation is somewhat different – and arguably, Fortnite is one of the most maintained games out there. Since it launched in 2017, the developer, Epic, has pumped constant updates into the game.
In 2020, a remarkably popular YouTuber by the name of McCreamy put out a music video with a message. It was titled 'Fortnite's Kinda Dying', and it was a satirical cover of Billy Joel's We Didn't Start The Fire. Within just one year, that video had racked up almost sixty million views, with many regarding the message as true. It was a statement mirrored by fans and critics of the title alike: Fortnite's Kinda Dying.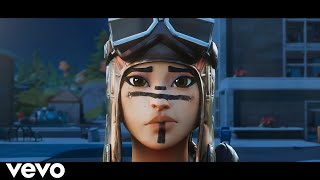 Back then, Fortnite had existed for around three years, and in that time, very little had changed in the world of Fortnite. At its core, it remained the exact same game that Epic Games had released in 2017 – the formula was identical.
While the map had received changes and more skins and abilities had been added to the battle royale game, it was fundamentally the same and hence, considered to be 'dying'. Now, years later, we're still asking whether or not Fortnite is dying even though fans are now pretty deep into Chapter 4 and the meta is still evolving.
The Fortnite Player Count – Is Fortnite Dead?
Fortnite Registered Users
According to Business of Apps, a data and statistics reporting platform, Fortnite is not dying. At least, not in terms of the general user base, which has grown every year consistently since its inception.
In 2017, there were approximately 20 million registered Fortnite players, and by 2021, that number had swollen to more than 400 million. In line with that number, the count of monthly active players also grew, from 78.3 million in 2018 to around 80.4 million in 2020.
| Year | Users |
| --- | --- |
| 2017 | 20 million |
| 2018 | 125 million |
| 2019 | 250 million |
| 2020 | 300 million |
| 2021 | 350 million |
| 2022 | 390 million |
| 2023 | 400 million |
Fortnite Player Activity
In addition, the following statistics, provided by Active Player, also look to answer the question of whether Fortnite is dying.
As of 2023, Fortnite has more than 233 million average monthly players.
The game also averages 9 million concurrent players.
78% of Fortnite players prefer to play on a console.
Even years after the game was released, it's still one of the most-played games in the world. A lot of the games' success has to do with its universal appeal to both younger and older gamers. There's no doubt that the Fortnite player count remains extremely strong and stable, and it isn't dropping at a fast enough rate to say that Fortnite is dying.
Also, since 2017, the Fortnite player count has had the opportunity to play on multiple platforms, mainly console, PC and mobile devices too.
Epic Games – Enjoying Success
Success involves more than just an active player base, but benefits for the game developers also. For a game like Fortnite, the competitive scene FNCS should play a role in
Furthermore, it revealed that Epic Games, the creators of Fortnite, have been making huge sums of cash from the platform.
In 2018, Fortnite's revenue exceeded $5.4 billion, before dropping considerably through 2019.
However, there was another upsurge, and Epic Games pocketed $5.1 billion in Fortnite revenue in 2020 and $5.8 billion in revenue in 2021.
Also, in 2022, statistics were revealed that explained how an estimated 77% of all Fortnite players had made at least one in-game purchase since Fortnite launched.
Fortnite Viewership in 2023 – Turning Heads
If we look at social platforms, we can see that Fortnite has remained consistent for years.
According to TwitchTracker.com, for example, Fortnite's viewership figures have been far above the average for many years.
At the start of September 2022, Fortnite boasted an average viewership of 52,982 over a 7-day period, and it was ranked #10 overall on the platform. Today in 2023, Fortnite ranks 6th on Twitch!
And, while Fortnite esports took a bit of a bad turn, the viewership figures for ad-hoc or organized events also remained high.
If you'd like to know how to watch Fortnite content, we've put together a handy guide.
Is Fortnite Dying? – Fighting for Content
Unfortunately, in the last year or two, some of the best Fortnite players in the world have abandoned the title. While there are still plenty of Fortnite tournaments being played, they seem to have less coverage than in recent years.
For example, in late 2020, competitors fought it out in a tense tournament with a $5 million prize pool, but it wasn't heavily publicized. Although there might still be many opportunities for a little Fortnite esports betting, there does seem to be a decline in overall popularity.
And let's not forget, many of the best Fortnite streamers also abandoned the platform in favor of other games. As they transitioned away, they took thousands of Fortnite viewers with them. It could be said that most of Ninja's net worth came from the Fortnite portion of his career, and while he still plays from time to time, it's by no means his main game. The fact that Fortnite is still standing strong just proves how successful this game really can be.
Ultimately, the creators don't make the game, but they do help its popularity overall. Although the Fortnite player count remains relatively strong, it could be argued that it would be stronger if all the top-tier content creators had stayed on board.
The Future of Fortnite – Staying Unique
Let's put a cap on the suggestion that Fortnite is dead. Sure, Fortnite is not as popular as it used to be, but maintaining such popularity is impossible for any title.
One contributing factor in 2023, is that there's much more competition for Fortnite than ever before.
In the battle royale genre, we're seeing the likes of Warzone, PUBG, and Apex Legends become increasingly popular. It's a dense market out there, and Fortnite has to change up the formula to contend more effectively or risk losing the battle. It has been a fantastic journey so far, and Fortnite is effectively paving the way into the metaverse, introducing groundbreaking live events and a world that is ever-changing.
Also, Fortnite does an incredible job at staying relevant through content updates depending on mainstream media, related to movies and other video games – better than other BRs.
But is it enough?
As the bulk of its audience is getting older, it's becoming a platform reserved exclusively for a young, developing market. It's hard to retain those users and follow trends in the industry alongside them, as they too are eager to experience the next best thing.
So, Fortnite, you're not dying yet, but the future is unwritten. While Fortnite may need to change in some way, it needs to preserve its identity.
Frequently asked questions
Is Fortnite dead?
The answer to this one is a simple and resounding no. All games have a natural lifespan but Epic's commitment to updates and an evolving pro scene are working to ensure that Fortnite keeps going. The player count is nothing to sniff at and is, in fact, one of the highest in gaming history.
Is Fortnite dying or growing?
Fortnite saw unprecedented growth between 2017 and 2021. Eventually, it had to slow down a little. One thing that's worth remembering is that just because a game isn't growing as quickly doesn't mean it's dying. Instead, Fortnite may be finding a more comfortable plateau. That being said, it's still one of the most successful games in history.
Is Fortnite losing popularity?
While the mass exodus of streamers and content creators from Fortnite might make it seems like its losing popularity, the numbers don't reflect that. Fortnite's player count is still going up. With more focus being put into the FNCS, the end of Fortnite is a long way away.
Is Fortnite worth the time?
Getting into a game that's been out for a number of years can be daunting. There's a skill jump to be made and while Fortnite certainly makes an effort to fairly matchmake, it's not flawless. However, the learning curve is rather less than intense than other games and is definitely worth your time if you're looking for a new game.
Continue reading: 
What is the metaverse and how it will affect gaming?