Every year, the League of Legends World Championship takes place, and millions of fans tune into what is essentially the biggest esports tournament in the business. It's a dramatically popular event that overshadows almost every other tournament around it, and it features the top-tier talents of the world's greatest LoL players. This is such a grand event that every year, a brand new anthem is crafted to celebrate it. Anthems enhance the competitive spirit to reach the highest level, both for the fans and the players. In this guide, we're breaking down the best LoL Worlds songs we've ever heard.
As one of the most valuable tournaments in esports, LoL Worlds spares no expense when it comes to pleasing the fans. This event pulls in staggering viewership figures, both online and in person. In 2022, the League of Legends World Championship takes place across four major cities, featuring some of the wealthiest and most powerful organisations in the esports industry. And, as you might expect, a new track has been entered gracefully into the collection of LoL Worlds songs.
This is one of the most important modern League of Legends traditions. For the 2022 League of Legends World Championship, Lil Nas X has created an all-new track – STAR WALKIN'.
Where does this track rank against all other LoL Worlds songs? Let's find out.
STAR WALKIN' at the League of Legends World Championship
On the 23rd of September, the latest LoL Worlds song was officially released: STAR WALKIN'. This upbeat, inspirational anthem comes from the creative mind of Lil Nas X, an extremely popular artist who, to promote the partnership, was made the President of League of Legends. As a publicity stunt, Montero Lamar Hill, better known as Lil Nas X, was sworn in as the President of League of Legends, bursting onto social media platforms to market both the game and the new track.
Lil Nas X is among the most famous rappers, especially in recent years. He has won many awards with his own songs, Old Town Road and Montero. The youngster's debut album preview was held as a virtual event in Roblox. Lil Nas X is not a stranger to the gaming world, proving it once again with his collaboration with Riot Games.
As of September 17th, the League of Legends Twitter profile was rebranded with the title 'LoLNasX', and both the cover and profile images were replaced with pictures of the artist. This move was positively received by the community in general, with one fan going so far as to demand that Lil Nas X also be made the President of VALORANT. With 7.9 million followers on Twitter alone, this crossover unites both Lil Nas X's fans and League of Legends fans.
Since 2014, the LoL Worlds songs have been an annual tradition. It's a theme that was kicked off by Imagine Dragons in 2014 with the debut of 'Warriors', and since then, we've seen a new song released every year, specifically for the League of Legends World Championship event. Could Lil Nas X's track become the most popular LoL Worlds song to ever be released? It's certainly a possibility, as, by sheer numbers alone, he's the most popular artist to have partnered with Riot to create such a track.
Here's the all-new music video for the newest League of Legends Worlds song – STAR WALKIN':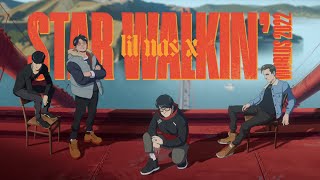 On that note, if you're excited, here's a guide that'll show you how to watch LoL Worlds.
This year sees a "slightly different" song than the previous ones, with less hype melody and more lyrics.
"We wanted this year's Worlds anthem to have that North American flair while truly embodying the One&Only brand – unapologetic in its individuality. And who better to represent that idea than Lil Nas X? Lil Nas X tapped into our vision and took it to the next level. 'STAR WALKIN' perfectly captures the relentless competitive drive of our pros; that burning desire to claim your place in history and reach the stars. It's the essence of each pro's journey to the World Final and lifting the coveted Summoner's Cup. The Worlds Anthem comes with high expectations. It needs to inspire our pros, hype our fans, and prepare a live stadium audience of thousands – and a broadcast of millions – for the ultimate competitive showdown. And I can confidently say 'STAR WALKIN' did just that," said Carrie Dunn, Global Head of Creative, Esports at Riot Games.
The cinematic welcomes some of the iconic players of the major regions. Humanoid is there to represent LEC, CoreJJ the LCS, Meiko represents the LPL, and of course, Chovy is also one of the protagonists in the cinematic, representing the LCK. Apart from these players, there are many different easter eggs that hint at different players, such as Closer, Perkz, Faker, caPs, Jankos and Gumayusi. Other players, team and league logos, such as LEC, LCS, TCL, also appear in the video.
LoL Worlds Songs Throughout History
In the history of LoL Worlds 2022, there are some meaningful, memorable moments that have stuck with the community. From monumental underdog victories to retirement tours of some of the most beloved players, LoL Worlds has proven itself time and again to be a cherished, impactful event. In 2014, fans received the first song crafted specifically for the League of Legends World Championship, and since then, with each successive year, they've received a new song that they can associate directly with the event.
With these tracks, fans can transport themselves back in time, recalling fantastic plays, crushing defeats, and the making of up-and-coming players in epic, mind-blowing moments. But, it's important to stress that some LoL Worlds songs have been better received than others. For years, Riot has tried to keep these songs diverse, changing the artist every year and keeping things dynamic.
Even today, fans still replay the original LoL Worlds track on YouTube, which by late 2022 had racked up more than 377 million views on YouTube. If you're working with sheer numbers alone, that makes Warriors the best LoL Worlds song ever created. At the time, Imagine Dragons, the artist behind the track, was reportedly made up of legitimate League of Legends fans.
For the League of Legends Worlds teams, some of these tracks will become poignant for many reasons. If they secure the top spot at the World Championship event, the track that has been selected for that year will likely become their new favourite song.
Here's an opportunity to decide for yourself whether Warriors is the best LoL Worlds song ever: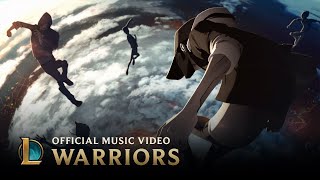 LoL Worlds Songs Ranked (And Playlist)
With the introduction of Lil Nas X's song, STAR WALKIN', we now have nine LoL Worlds songs, but which of them is the most popular? We've already established that Warriors is the most popular LoL Worlds song by its view count alone, but where does every other track fit into that ranking? For a moment, forget about the LoL Worlds power rankings or the top-tier teams – we're here to see which Worlds songs are the best in the world.
Warriors – Imagine Dragons (2014): 377m views
RISE – The Glitch Mob (2018): 317m views
Legends Never Die – Against The Current (2017): 218m views
Phoenix – Cailin Russo and Chrissy Constanza (2019): 125m views
Ignite – Zedd (2016): 90m views
Take Over – A Day to Remember (2020): 69m views
Burn It All Down – PVRIS (2021): 40m views
Worlds Collide – Nicki Taylor (2015): 32m views
Despite Worlds Collide being the second-oldest LoL Worlds song, it has the lowest view count in the rankings. For years, fans have cried out against this fact, with some questioning why it had so little popularity as a LoL Worlds song. One user on YouTube wrote, 'The only reason this is underrated has to be that it doesn't have an animation'. In another post, another user wrote, 'Man, I swear this song got overshadowed by every other Worlds anthem – so underrated.'
It's impossible to know where Lil Nas X's song will rank before it releases on the 23rd of September, but it's expected to blow many of these anthems out of the water. For now, we'd recommend checking out a playlist of all the LoL Worlds songs, so you can judge for yourself which one is the best.
On the 29th of September, the 2022 League of Legends World Championship event will kick off. It'll bring unprecedented levels of LoL Worlds betting opportunities, and fans will be eagerly watching to see which team will be crowned the champion on the 5th of November.