Bitcoin's value isn't back to its peak of 2021; however, the Bitcoin network did see the highest number of transactions ever, in its entire 14-year history, in the past week. This means that Bitcoin is being used and it's an encouraging sign for the crypto industry.
Just a few weeks ago we speculated "Is Crypto Dead?" to review the industry's evolution and how its mainstream use and potentially a crossover with gaming, crypto betting, and other entertainment industries will drive long-term adoption.
Are we losing faith in big banks or just loving NFTs?
CoinDesk, in an article on Bitcoin's new record, connected the rise in transactions with the story of the US First Republic bank buyout but called the timing, "incidental." Although many crypto proponents would be buoyed by seeing confidence in digital assets rise at a time when conventional private banks are failing, this latest banking crisis probably hasn't triggered the high transaction rate.
Bitcoin NFTs finally arrive
Transactions on the Bitcoin blockchain, when Bitcoin is mined, bought or sold, have been rising since the launch of Bitcoin Ordinals. Bitcoin is a fungible coin, all Bitcoins are the same and can be traded like for like. This is in contrast to non-fungible tokens (NFTs) which, with their embedded smart contract data, can all be different. Smart contract technology and indeed NFTs have emerged in recent years from blockchain networks, like Ethereum, that have supported the technology.
Bitcoin Ordinals, Bitcoin NFTs, or Ordinal Inscriptions, are similar to NFTs and are assets embedded into Bitcoin's lowest denomination, the Satoshi, and they became possible for the first time after the "Taproot," Bitcoin update in November 2021.
In April 2023 users broke records, per Decrypt, for creating Ordinal Inscriptions, as they created images, videos, games, and other content, all using the Bitcoin network.
It's taken nearly ten years for developers to get NFT functionality on the very first blockchain and the network that birthed the crypto industry and it's a real milestone for the technology. The Ordinal Inscription process, which inscribes the unique data to the Bitcoin transaction, stores the NFT information into a transaction's "witness." The SegWit upgrade to Bitcoin's blockchain added witness technology and occurred in 2017. It was designed to help Bitcoin scale, and answer a major issue for the network, and the upgrade sent Bitcoin's price hurtling upwards in subsequent weeks.
And, Pepe the Frog is back too!
There's another coincidence for the industry Rare Pepe NFT creators Counterparty were working on Bitcoin NFT functionality back in 2014. Counterparty's Rare Pepes are now classed as a "historical NFT," and part of NFT history. They were launched in 2016 and are one of the first art experiments on blockchain.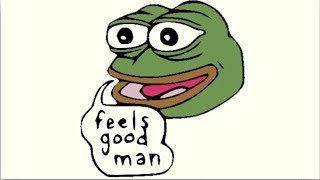 Fast forward to 2023 and Pepe the Frog has also returned. A new meme coin, PEPE, was launched just two weeks ago and gained overnight popularity.
The PEPE coin entered the top 100 cryptocurrency charts within two weeks and achieved a market capitalization of over $570 million which has now dropped back to around $240 million, per CoinMarketCap.com. It even outpaced Dogecoin and Shiba Inu trading volumes. PEPE coin is based on Ethereum, and Decrypt further reports that one investor's crypto bet on the new token turned into a win when they traded a $250 purchase into $1.02 million.
Bitcoin transaction volumes, and alt-coin overnight fame such as with PEPE coin, indicate that the use of, and interest in, cryptocurrencies is still strong. In fact, interest is potentially gaining pace once again. Total market capitalization data tells us confidence is not as high as it was at the end of 2021, but that the past few months could indicate it's crypto spring again.
All this is good news if you own or trade crypto, bet with NFTs or crypto, or have your own collection of Pepe the Frog NFTs.
Featured image credit: Michael Förtsch via Unsplash.