You might have seen 'draw no bet' listed at some betting sites, but not really understood what the meaning of draw no bet is. This guide is here to help as we'll explain what draw no bets are and reveal how these kinds of bets can be used to significantly boost your chances of winning. We'll even show you some tips that you can use to get more from your draw no bets.
Betting sites offering draw no bet markets
What does draw no bet mean?
A draw no bet is a bet on a sporting event where the drawing result is taken out of the equation. As such, you will only be betting either on the home team winning, or the away team winning.
This means that you won't see any draw no bets available for those sports that don't feature draws like tennis or motor racing. Plus it's not the kind of bet that works for high-scoring games like American football and basketball.
But if you want to bet on a game with 1×2 betting markets such as football or even test match cricket, then a draw no bet can work wonders. This is because by removing the draw, you are giving yourself a much better chance of winning your bets.
After all, you're getting a 50% chance of winning compared to just 33%. Just remember that the shorter odds will mean that you'll get fewer returns as a consequence.
Redeem A Thunderpick Welcome Bonus of 100% up to $500 ➥
The meaning of draw no bet explained with an example
Still confused about draw no bets? Then let's take a look at the following example.
You want to bet on a Premier League football match between Everton and Leeds United.
Normally, you would either bet on Everton to win which would have odds of 2.40, Leeds to win at odds of 2.87 or there to be a draw at odds of 3.20.
However, if you tried a double chance bet, the draw would be taken out. This would leave you with odds of 1.72 for an Everton win or 2.00 for a Leeds win.
These odds would get shorter which means that you wouldn't win as much with your bet, but you would get a much better chance of actually winning. After all, making some winnings is better than losing your bets and getting nothing.
You might also be interested in:
Video Guide: Draw No Bet Explained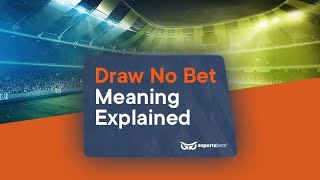 Finding a good draw no bet strategy
It can take a little bit of experience to know when the right time is to try a draw no bet and how to best use this technique. So here are some simple tips to help you out:
Great for acca betting: Accumulator betting is a lot of fun but it's also very risky. After all, those odds can quickly combine and become almost impossible to win, even if the rewards look great. So consider making a draw no bet part of your parlay. This is because it can still add an extra selection but the odds will be shorter and then you will get a better chance of winning.
Perfect for those unpredictable games: Some sporting encounters are simply impossible to predict. We're talking about those big cup finals or even those major local derbies. This is where a draw no bet can work wonders because you are simply taking one of the potential outcomes off the table to still give yourself a better chance of winning. Just remember that your returns might not be quite so memorable.
Putting the meaning of draw no bet into action
Now that you know the draw no bet meaning, you'll be ready to try this bet. This means that you'll stand a much greater chance of winning your football bets, although this obviously comes at the cost of potentially smaller returns.
But above all, a draw no bet is another great example of the kinds of tools that you can find in our betting guides. So be sure to do your research to make sure that you get the most out of your bets.
Open a Thunderpick account and claim your bonus
Social Crypto and Esports Betting
Exclusive VIP Club with unique Rewards
Bitcoin, Ethereum, Litecoin, XRP, USDT & more accepted